Nicolas Abtan Art
Regular price
$910.00 USD
Regular price
Sale price
$910.00 USD
Unit price
per
ON SALE
SOLD
Collision: This painting uses a wide variety of materials and textures including gold mica flakes, gold metallic paint, blue metallic paint, sand, rocks and paints including clear paint. It is one of my proudest abstract pieces.
Size: 36x24 inch stretched 100% cotton canvas
Finish: Glossy varnish for UV protection
Instructions:
To clean: You can dust with a long hair paint brush or lightly wipe with a slightly damp cloth, the varnish should protect against water however it must be mostly dry just to be safe. Avoid using a duster at all cost, as it can get caught in the paint and chip pieces.
Share
View full details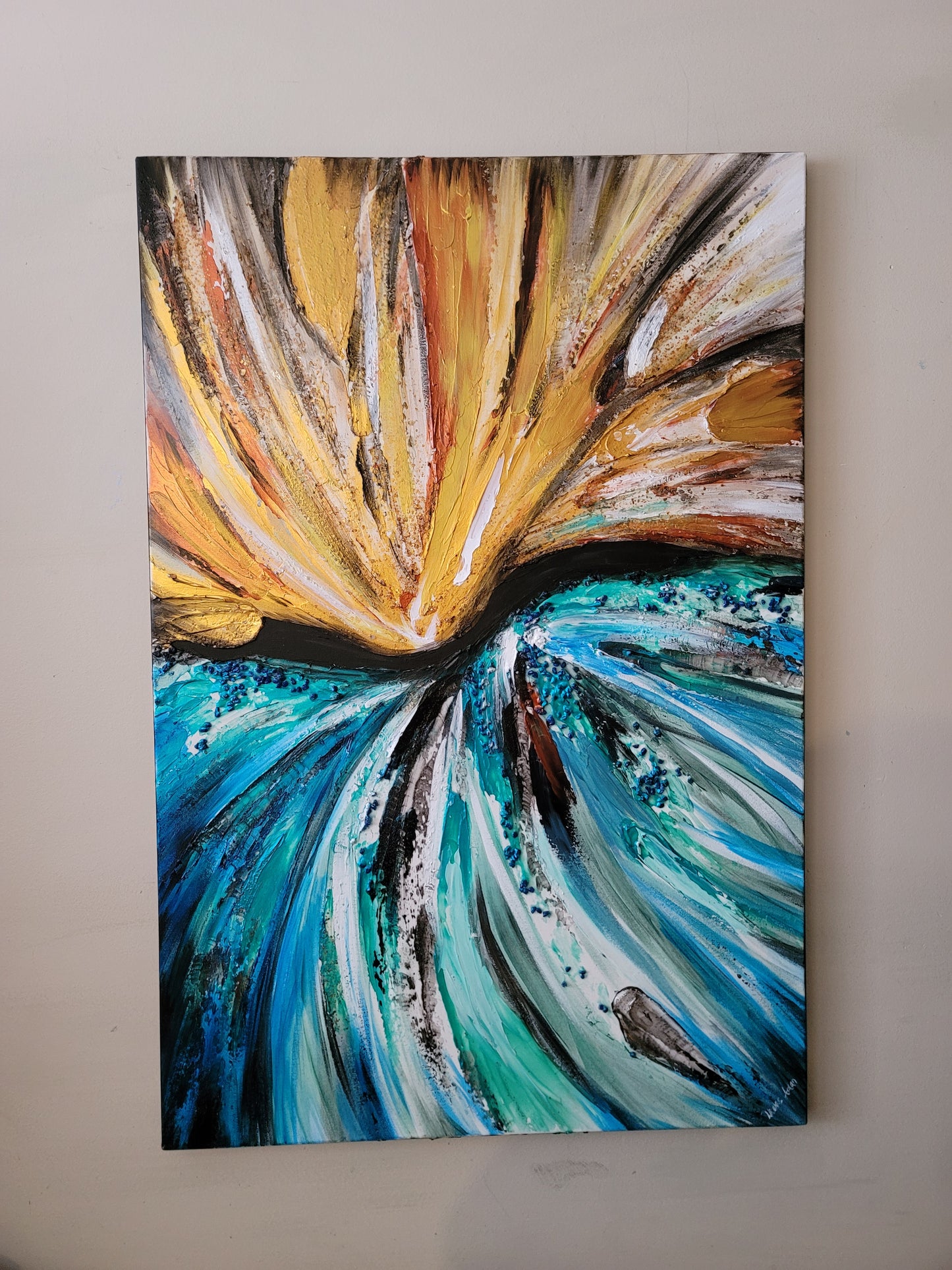 FAQ's
How strong is the art?

All my art is made with the most care and best quality canvas, as well as archival quality acrylic paints and high quality varnish. Every precaution is taken to properly care for my art and the varnishes protect against UV damage to keep concentrated pigmentation in the paint. The 3D portions are meant to be touched and interacted with, just not pulled or hit. I believe they will last a life time, but I care for my art so if there is ever any damage even past the warranty, I will repair it for free, besides shipping fees.
How to clean and how often?

The best ways to clean the art is with compressed air, a long hair paint brush or careful use of a damp paper towel (this method needs extra time and care) and should be done anywhere from every 6 months to a few years depending on your household.

Avoid using a rag or duster as they may get caught in pieces of paint and chip.
How will this be packaged?

Complicated 'out of canvas' art will be packaged in a cardboard box with cardboard straps preventing the movement of the art piece, and leaving empty space around the 'out of canvas' pieces. I am so confident in this method I offer 30 days no cost repairs and 1 year limited warranty.
How do you price your art?

My art uses the best materials I can find, which are also often some of the more expensive materials out there. On top of that, and the time it takes to create, varnish and package my art, and the creative aspects of one of a kind art, I also cover shipping fees, packaging fees, website fees, payment transaction fees, email fees and much more, and the remainder of the money is saved to protect you as a buyer, in case you want a refund or need to use a warranty policy that will be covered by me. So I calculate all current and possible costs and simply make sure I won't lose too much money if all expenses take place on a sale.
What is your warranty policy?

The exact details can be found here however to summarize, I offer 10 day returns where you would only pay the return shipping fee, 30 day no cost repairs where I would reimburse any costs (except possible duty fees which have to be filed as a return or warranty) and 1 year limited warranty where you only pay the shipping to me and I cover the rest.
What does free shipping include?

I will pay for all shipping costs besides any possible duty/import fees.
Very happy
This art piece has my favourite colours with the perfect amount of depth and texture, detail in person that I didnt think would be here, overall very happy, also kindly included a discount. Thank you!